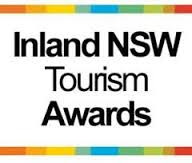 In an outstanding performance for a town of its size, Forbes has scored three nominations from a total of 51 in the final countdown for the 2015 Travel In NSW Inland Tourism Awards — Forbes' Council's Apex Riverside Caravan Park, the Council's Forbes in the Heart of Country promotional campaign, and independently owned Girragirra Retreat. This placed Forbes ahead of much bigger Central NSW centres such as Bathurst, with one nomination, and Orange, with two.
The Council's General Manager, Brian Steffan, was ecstatic about the achievement, especially the nomination of the Heart of Country campaign which is very much at the centre of the town's tourism promotional activity. "It very much takes an integrated approach which combines a strong online presence with other things such as billboards, stationery and successful ideas from previous campaigns," he said. "The central message encourages visitors to take some time out and embrace the rural agricultural experience."
"And then, of course, the Apex Riverside Caravan Park starts with such a glorious location on the banks of the Lachlan as its principal natural asset, but also has such efficient and friendly hands-on management from Lance and Amanda Young." Brian and Cr Grant Clifton, Chairman of the Council's Tourism Committee, will travel to Broken Hill on July 25 for a gala award dinner at which the overall winners will be announced and regional tourism celebrated.