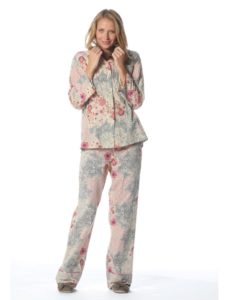 With winter almost upon us, it is time to start looking for sleepwear to keep you cosy and warm at night.
Undercover Sleepwear in Forbes has brought in a new label, Papinelle, for win- ter sleepwear.
The designer is based in Paddington, Sydney and uses beautiful cotton and delicate fabrics, including quality flannelette and twill. The label has a variety of pieces to mix and match to suit your own comfort and style. Papinelle specialices in pyjamas, nighties, robes and loungewear, and has a small range of girls and boys pyjamas from size 1 to size 7.
Owner of Undercover Sleepwear, Marg Duggan, feels this label will sit well with all other sleepwear labels in store to offer all customers a choice and option for everyone. She says sleepwear can cross over to lounge wear to relax around the home over the weekend.
Marg is also a specialised and experienced bra fitter and a qualified Amoena fitter. Check out the Facebook and Instagram page, or call 6851 4405 for enquiries.
Opening hours are Monday to Fri- day 9am to 5.30pm and Saturday 9am to 12.30pm.