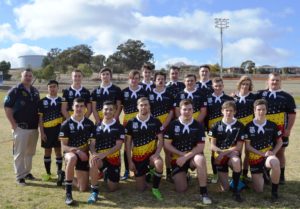 The second White Ribbon Cup held annually between Forbes High School and Parkes High School was blessed with sunny skies and took place at Pioneer Oval in Parkes on Monday.
The rugby league match between Forbes and Parkes High Schools is aimed at raising awareness for domestic violence and to emphasise that domestic violence is not 'ok'. Approximately 2,500 people came out in support of this worthy cause.
White Ribbon Ambassador and Forbes High School Aboriginal Educational Officer (AEO), Barry Merrit said: "Who said our youth don't have a voice? Our youth are standing up and saying loud and clear, 'It needs to stop!'"
The statistics are staggering, said Barry."On average, one woman a week is murdered in Australia in a domestic violence incident and one in four children has witnessed domestic violence in their lifetime." The idea to hold the cup first originated within the White Ribbon Supporter Boys group at Forbes High School. Barry's role as the AEO and team coach was to make it happen. The inaugural cup was held at Forbes High School in 2017.
Although Forbes High School brings the cup home in its second victory against Parkes, Barry marks the day is not about the game itself but about our youth coming together and raising awareness for such a great cause.
"The game was played in great spirit by both teams and sends such a strong message to both our communities that domestic violence is not ok!" said Barry.
By Gizell van Wyk