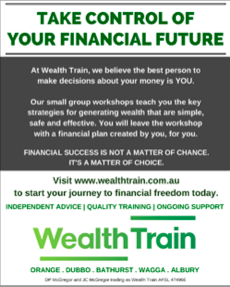 The Look On Your Face
Here's something to ponder: the biggest regret of people over 65 is that they didn't save more money for their retirement! The reality is that most people don't have the money to do all the things they'd love to do right at the time in their lives when they finally have all the time in the world.
The decisions you're making right now will determine what your financial future looks like. And what you're doing with your
superannuation is a key part of the equation. What will the look on your face be when it comes time to retire? For many, retirement comes with a sense of fear when the realisation comes that the money they have is not going to last the journey. In fact, the biggest fear of retirees is that they will run out of money. They fear it more than dying!
Don't take super lightly! For most people, super is a mystery because they've never had it explained to them. It's one of the key areas of the financial education Wealth Train provides as we want everyone to have a clear understanding of what superannuation is and how to make theirs work as hard as possible.
In the next few weeks you'll receive your annual superannuation statement. If that's not something that's excited you before, then right now is the time to change that. After all, who wouldn't get excited about a stockpile of money building up to pay you to one day when you no longer have to work? Get the financial you need to take control of your money.
Daniel and
The Wealth Train Team