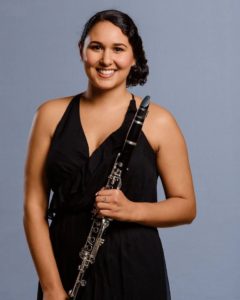 Two young musicians are the stars of the concert by the Macquarie Symphony Orchestra at the Town Hall in Forbes on Saturday, 21st October.
One of the world's favourite concertos, the Mozart Clarinet concerto, will be performed by Sandra Ismail, the winner of the Camplin Prize in the inaugural Macquarie Philharmonia Concerto competition.
"It is an opportunity of a life time and I will have to be fully prepared technically and mentally. It will be very special for me to perform a concerto with the Macquarie Symphony Orchestra because I grew up listening and playing in the orchestra as a student," Sandra said.
Lucy Clarke-Randazzo, the Thompson Concerto prize winner, will play the dazzling violin concerto by Kabalevsky. She says she has been practicing Kabalevsky's violin concerto for about 12 months and has never played it with an orchestra.
"I will love this opportunity as it is one of my favourite pieces and to experience being accompanied by a full orchestra will be so exciting and a great musical experience for me as I develop my ensemble skills".
The concert begins at 7pm with canapés being served at 6pm. Tickets are available on line at www.eventbrite.com.au ($30 adults, $25 concession, children under 18 free) and at Forbes Shire Council. Tickets for the canapés ($20) must be bought separately