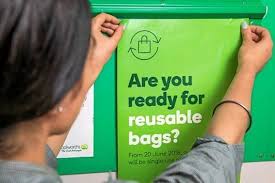 Customers shopping at Woolworths Forbes will begin to notice in-store reminders to bring their own reusable bags, as the supermarket prepares to go single-use plastic bag free nationally from 20th June.
Across Australia this will see the removal of 3.2 billion lightweight plastic bags from circulation each year.
Woolworths Forbes Store Manager, Noel Reardon said: "At Woolworths we are committed to listening to our customers and also doing the right thing for the environment. We are proud to be able to help create a greener future for Australia with our customers by removing single-use plastic bags from our store from 20th June.
"We appreciate that it will be a big change for our customers and will do what we can to support them through the transition to make it as smooth and simple as possible." In the lead up to then, there will be increased signage in-store and at checkouts reminding customers on the date change.
Customers will have the option to bring in their own bags or will have access to purchase a range of reusable bag options starting from 15 cents.
Planet Ark CEO Paul Klymenko said: "Woolworths' move will have a really positive impact on our environment and we're confident the local community will embrace it.
"Single-use plastic bags have become a huge problem for Australia's oceans and waterways where they cause significant harm to marine life, such as turtles and whales. They also don't breakdown in landfill and require significant resources to manufacture in the first place.
"Experience in countries like the UK and Ireland shows that the introduction of small charges on plastic bags can end up reducing plastic bag usage by up to 85% as locals embrace reusable alternatives. This is a real win for the environment," he said.