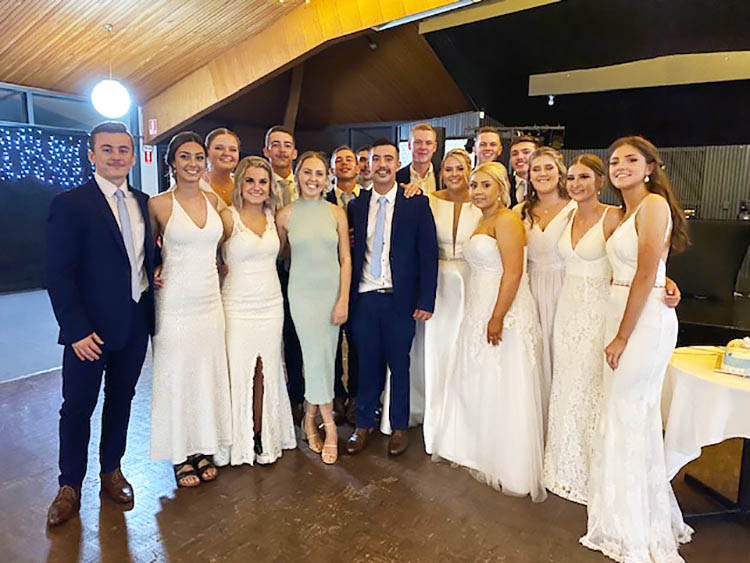 On Saturday evening, 6 February, around 200 families, friends and guests attended the Forbes Sportsman's Hotel to support sixteen determined young people who raised more than $1,500 for Make A Wish Australia. Twelve months ago, when this group commenced preparations for their charity Debutante Ball, they had no idea what challenges they were about to face. A Global Pandemic and all the social distancing restrictions that came with it may have tried to derail them, but it certainly did not stop them.
Master of Ceremonies for the event, Maria Bullock made sure that everything ran smoothly on the evening. Arlo Barlow and Bobbie Ashcroft, the pageboy and flower girl escorted the debutantes and their partners to Daniel West. The debutantes were Sybella Carlisle and Angus Turner, Jessica Ashcroft and Blair Thomas, Bridie Herron and John Dietrich, Ruby Staines and Preston Thorpe, Hannah Staines and Brodie Acret, Ella Greenhalgh and Talis Hurford, Leilah Meritt and Xander Williams, and Jessica Little and Lincoln Godden.
The presentation dance was choreographed by Eliza Woods to 'Speechless' by Dan + Shay and it was a fresh, modern partner dance. The group gave a polished performance to the delight of their families, friends, and guests. At the conclusion of the feature dances a delicious two-course meal, prepared by Monty's catering, was enjoyed by all attendees. Shirley Myers made and decorated the cake which was cut up for dessert at the conclusion of the official part of the evening.
The inspiring group raised more than $1,500 for their chosen charity Make A Wish Australia. The 100 Club and Monster Garden raffle were drawn on the night and the winners included Kate Merritt, Hannah Staines, Jo Staines, and Sharon Beuzaville.
This amazing group would like to thank everyone who have supported then through this experience, especially their families.