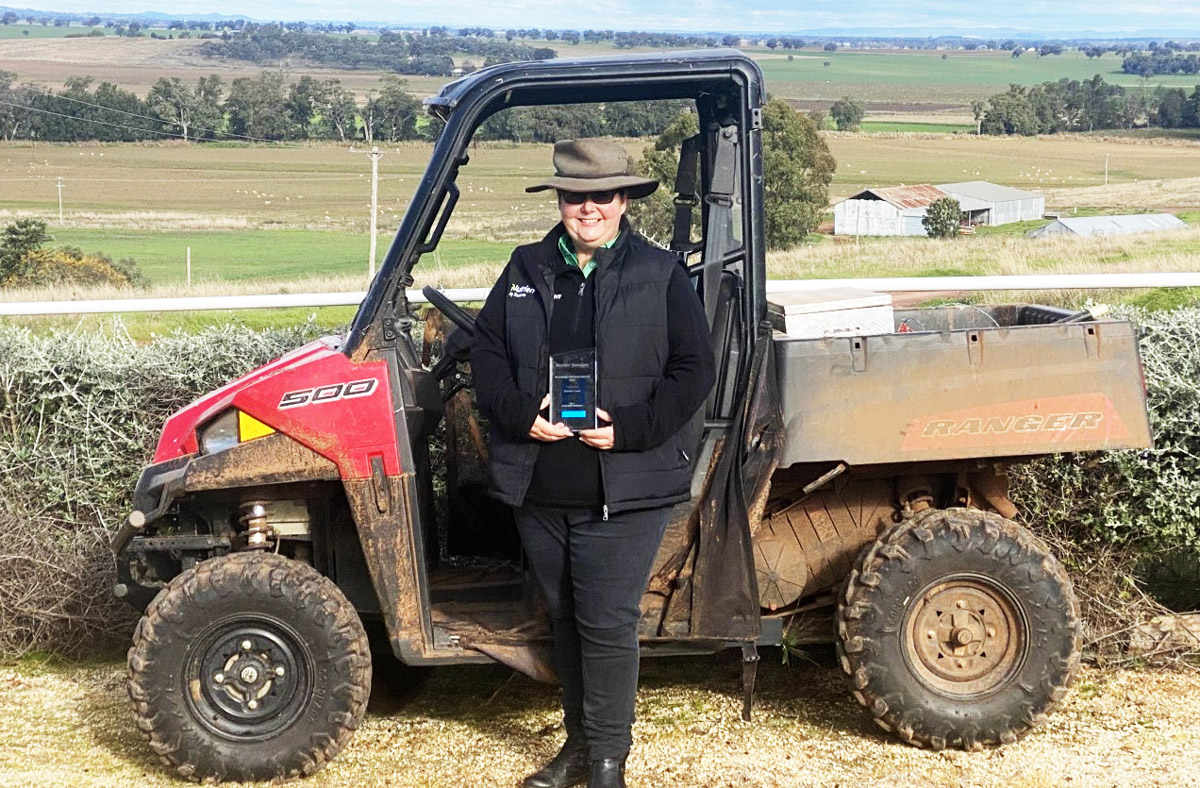 Local real estate agent Ainslee Toole has much to smile about after being awarded number one agent for Nutrien Harcourts NSW and placing third nationally for sales contribution at the recent National Conference. 
This was an exceptional result considering 2021 was not an easy year, with much of the Forbes district in flood and many wet days prohibiting inspections. 
"Most of the inspections last year were carried out in a buggy due to the wet season. I had people close to me battling the good fight so it was pretty exciting to get a podium finish at our National Conference after such a tough year," said Ainslee. 
Ainslee continued to say this year is shaping up to be better. "We have just sold several larger irrigation properties at record levels and have some quality listings that we will be marketing through winter and spring." 
Ainslee is a Forbes local, growing up on a farm in the area. After returning from a period living abroad it seemed a natural progression for Ainslee to combine her sales experience as a Retail Manager with her rural experience to sell farms. 
The real estate industry has changed considerably in the 24 years since Ainslee began her career. She started just before emails and the Internet, when people saw the ads in the papers and would call to be faxed a a description with a few photos. 
"In my first year we only advertised in the local papers and The Land. It took up to two days to get the photos printed at the photo shop and then a few days to courier the photos to our advertising agent in Sydney. You had to allow a week from the time you took the photo to getting it in the press," she said. 
According to Ainslee, the biggest change in the industry has been the speed at which agents can now advertise a new listing, saying, "With online marketing we can reach in excess of 100,000 prospective buyers with a good campaign. It also allows us to target specific areas and demographics." 
Last year, Nutrien Harcourts Forbes shifted to online Auctions through their National Auctioneer with exceptional results. Reaching an 80% clearance rate, the results were the best they have ever achieved. 
"The thing I like the most about being an agent is helping people achieve their goals. Whether it's selling to move to town or buying another farm for their son to come home. In many cases this is the biggest business decision our clients make in their lifetime. With farms our clients are selling their business, their superannuation and their home in one transaction. 
"Our greatest compliment is when our buyers become our sellers and ask us to sell a property for them. I have sold many properties multiple times – some as many as four times." 
When asked where she saw herself in five years time, Ainslee responded, "I hope I'm still on the podium and doing exactly what I'm doing now. It would be nice to maybe travel a bit more in the future now that we can."