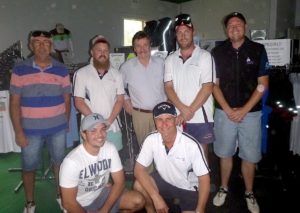 Local golfers took out many prizes at the Lachlan Valley District Golf Association Championships and Pennants held in Forbes on Sunday.
Peter Dawson won the Moulder Cup with a score of 69, closely followed by John Bet- land on 70. Forbes also won the A division, B division and handicap pennants.
The field of 97 also came from Parkes, Grenfell, West Wyalong, Condobolin and Caragabal. Trundle, Bogan Gate and Peak Hill were unable to send players.
Other Forbes prize winners were: C divi- sion scratch champ to T Sharpe (82), with runner-up S French (89). Steve Uphill was runner-up in the B division scratch. Veterans handicap winner was A Rees (71), A grade handicap winner was D Mylecharane (71), A grade runner-up was A Dukes (72), B grade handicap winner was L O'Connor (71) from tunner-up P Barnes (74).
Justin Sutton from Parkes won the Cham- pion of Current Champions with a par score of 72.
On Saturday a field of 33 pairs played the 4BBB Stableford Medley event for the prestigious Hawke Trophy.
The winners were Rod Besgrove and Barb Drabsch, scoring 47 points. Runners-up, on count back, were Lee Grierson and Craig Simmons.
The ball sweep went to 44 points on count back, going to those above plus: 36 – S French/ T Cogswell, Richard/ Fran Smith, K Sly/ C Jarvis, B Slack-Smith/ H Steel-Park;
45 – G Collitts/ K Sanderson, D Ridley/ G Johnston; 44 – T Morgan/ A McDonald.
The NTP's went to: 9th – B Chandler; 18th – B Chandler. Some delightful chip-ins were Deb Tilley on the 13th (for a 4-pointer!) and Terry Griffiths on the 18th.
Players are reminded the proposed changes to rules do not take effect until 1st January 2019. Current rules are valid for all official competitions – no leaving the pin in while putting! Players will be penalised for using the rules incorrectly.
By Short Putt