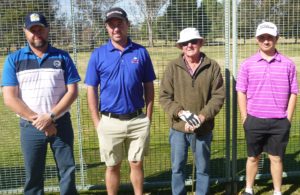 The Sanderson Trophy Day last Sunday was played in very windy and warm conditions with 10 teams braving the conditions in a close contest.
 The winning team of Mike Wood, Dan Bayley, Bruce Carpenter and Mike Wood Jnr put on a powerhouse display going round the course in 61 scratch, scoring two eagles along the way, and recording nett 56 ¾.
Runners-up were Niel Duncan leading wife Carolyn, daughter Brianna, and "nominal sister" Verna Lane. They used their handicap well with nett 58 7/8. The NTP's went to: 9th – Brianna Duncan and 18th – Ian Bown.
On Saturday the Men's competition was an 18-hole stableford, sponsored by Robb's Jewellers, saw a field of 56 players produce outstanding scores.
In the A-Division Brian Doyle finished with 45 points. His score of 38-38-76 was a model of consistency. Right behind him was Phil Maher with a score of 44 points.
The B-Division was won by Bruce Chandler scoring 41 points. Runner-up was Andrew McDonald with 39 points.
The ball sweep went to 38 points, going to: 45 – B Doyle; 44 – P Maher; 41 – A Dukes, R Nixon, B Chandler, 39 – A Borger, M Cahill, A McDonald, D Rhodes; 38 – D Henley, D Culley, A Callaghan, N McMillan, P Tisdell, C Barrett. The NTP's went to: 9th – R Nixon; 18th – C Barrett.
The Winter 3's competition went to Ray Taylor, Ron Morris and Jeff Haley with runners- up Julie Hurkett, Mary Ewing and Ev Uphill. The prize for the lowest individual score, a 25 nett, went to Kylie Brockman.
Tomorrow is the Monthly Medal, sponsored by McFeeters Motor Museum. Sunday will be an 18-Hole Stableford Medley. Saturday, 16th September is a 4BBB Stableford Medley, and Sunday has the Individual Stableford Medley.
By Short Putt