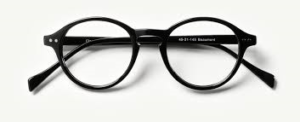 Are you thinking of getting a new pair of glasses to start afresh in Spring? There are brand new frames at Eyewear Specs and you can choose from Van Staveren, Empire New York and Australian brand Clive and Wally.
Eyewear Specs also stock the most popular brand for children and adults namely Flexon/Nike. "To see what these glasses can do is nothing but extraordinary. They are made of titanium so they are ultra strong and flexible," said owner/manager Fiona Hayward. "That is why they are perfect for children."
And remember as a special you can get a free second pair with every new pair!
It is not just a case of getting new glasses when you feel like it. "Eye care is very important and it is essential that people have their eyes tested every two years," says Fiona.
"Here at Eyewear Specs there is no cost to you for an eye examination as we bulk bill all testing with a valid Medicare Card." According to Fiona there are up to 260 different eye frames and all stock is rotated every three months so you can be sure to pick an individual frame.
Make your appointment today by calling 6851 2299 or pop in at 95 Rankin Street in Forbes. "Please come and see us to have your eyes tested and we will tailor a pair of glasses to suit your individual financial budget."