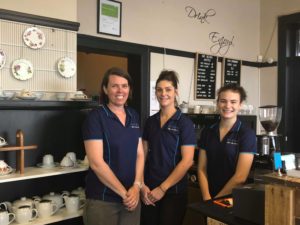 Crave. coffee cafe catering is a coffee shop cafe in Forbes that offers seated dining or take away, has a brand new coffee blend and can cater for any occasion.
Located in Shop 1 at 15 Rankin Street, in the old Royal Hotel, Crave offers convenient front and rear parking, has wheelchair access and customer lavatories. It also features comfortable inside dining with a small child friendly lounge area to keep the kids entertained while you enjoy a coffee break and has courtyard seating enclosed from the elements.
Isabel Haley has been the proud new owner of Crave. coffee cafe catering since September and is excited to announce that Crave is now a supplier of Bay Beans Coffee. "We have had an excellent response from customers so far. Our Bay Beans blend is very smooth with gentle spice flavours and a sweet aftertaste. You won't be disappointed!" said Isabel. Red Sparrow loose leaf tea is also available and is served in your choice of beautiful fine china tea cups.
The menu is varied but simple with some of the most popular items being the bacon and egg rolls, homemade hamburgers and toasted wraps. Isabel bakes all sweets and goodies herself with the raspberry white chocolate slice proving to definitely be the crowd pleaser. Some gluten free options are also available.
Summer salads, mini cob loaf, zucchini slice, brownies, banana bread, chocolate cake and cookies are some of the items waiting for you to delight in.
All items on the menu are available any time of the day and opening hours are Monday to Friday, 8am to 5pm and Saturday 8am to 2pm.
"If you haven't already, call in and say 'hi' to the friendly staff at Crave, who will always greet you with a smile and provide you with excellent service," said Isabel.