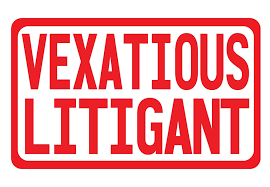 Certain people continually issue more than a usual number of statements of claim summons, writs or other court documents, usually against those in close proximity to them. These actions are sometimes started either in bad faith, or deliberately designed to settle an old score or to annoy or embarrass a neighbour.
Someone who habitually drags defendants to court with frivolous claims, which are more of a nuisance to the defendants than of benefit to themselves, is referred to as a "vexatious litigant." Such a person is a nuisance to society.
The court will not listen to a person who makes trivial or scandalous claims. If someone is declared a "vexatious litigant", he or she may not continue with the claim or start a new court action, without getting permission from the court beforehand. This may well be refused.
The medical profession has recently become aware of a particular character trait in people who display this uncontrollable urge to fight in court. The phrase is "querulous paranoia" and it is used to describe such types of people.
It is sometimes difficult for a person receiving a summons from, say, an unfriendly neighbour, to know whether the claim is frivolous or vexatious. A solicitor will be able to advise you of this.
If we at Matthews Williams can help you on any legal matter, feel free to call us.