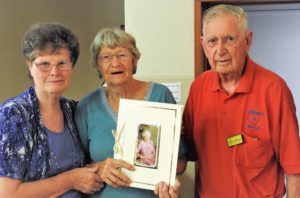 Best friends will do a lot for each other, but this week Gillian Davis had the surprise of a lifetime for her friend Lee Reynolds.
She astonished Lee in front of every- one at the College for Seniors meeting on Tuesday with a letter from Queen Elizabeth II. Gillian had written to the Queen and in- cluded Lee's poems she had written in the Queen's honour. One of Lee's poems sent to the Queen was in honour of her 90th birthday and the other on the passing of the Queen's mother.
"I feel humbled, totally overwhelmed," said an emotional Lee holding the Queen's letter.
Gillian read the Queen's letter in which she com- mended both Lee and her husband Lachlan by acknowledging the 2016 Rotary Ipomoea's annual community service award they had received for their community service over many decades. The Queen also thanked Lee for her poems and de- scribed them as 'delightful works.'
"Lee is so clever. She is always writing poems," said Gillian. "We call it scribbling because she always writes on used envelopes."
Lee's response was: "I might get up at 2 o'clock in the morning to write something. My mother wrote books, so something must have trickled down to me."
Gillian was ecstatic. "Now Lee's talent and scribblings have been acknowledged by royalty!"
By Dianne Collie