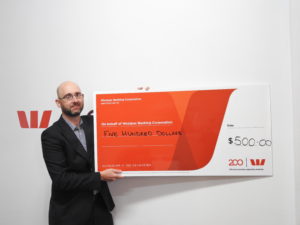 Westpac turned 200 on 8th April and as part of celebrations local branches are inviting not-for-profit organisations to apply for a $500 funding boost to help them sup- port their community.
The funding boost was also offered last year in the lead-up to the birthday mile- stone, and Forbes Westpac branch received 15 applications.
Local Westpac branch manager, Shannon Crowley said: "Any local charity or non- profit group in the Forbes area can enter giving details about the group and how they will spend the money."
"It's all managed locally. Forbes Westpac staff will read every application and have the tough job of deciding where the money will go."
Shannon encourages applicants to be specific in their application about how the funding boost will help them. There are no other conditions associated with the funding. Organisations don't need to have a Westpac account to apply, and don't need to open one.
Submissions can be emailed directly to Shannon Crowley at shcrowley@westpac. com.au by 23rd June and a winner will be announced on 26th June.
In addition the branch has also opened applications for the annual Westpac Foundation Community Grant, with a possible $10,000 funding boost for eligible organisations. Interested organisations can contact Shannon on 6850 1554.
By Rochelle Bright