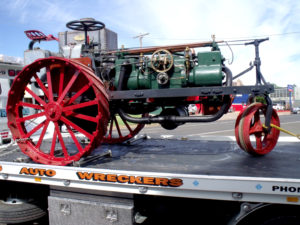 It might be Forbes' best kept secret, but tomorrow you can be let in on it when the Historical Museum has its open day – be adventurous and take the family on a treasure hunt!
You will find a treasure cove of heritage gems that will enrich your life, you might discover something relevant to your family and you will definitely learn something new.
Housed in the Osborne Hotel building of 1878 for the past 47 years, the most pre- cious item in the Forbes Historical Museum is the Ivel tractor – one of only seven left in the world. It took about 700 volunteer hours to restore it, and tomorrow you can see it started up.
If the recent Legend of Ben Hall mov- ie turned you onto history, the museum's award winning exhibit on this elusive bush- ranger will give you plenty more to explore. The original pendant worn by Ben is on display, as well as a coin believed to have been found on Ben Hall's body when he was killed by the police.
If the more serious work of the early explorers interest you, the surveyor's chain of Sir Thomas Mitchell, Surveyor General of NSW from 1828 to 1855 shines light on a very different chapter of history.
Or you can propel yourself into the space age… and find a piece of space debris thought to be part of the cone of a large space rocket that fell on a property near Forbes.
There are loads more treasures, so come and step inside history and be amazed. For more visit the pictorial site with over 1,500 photos of early Forbes at www.pictorialforbes.org.au, the website at www.forbesmuseum.com.au or
Facebook: https://www.facebook.com/forbesmuseum