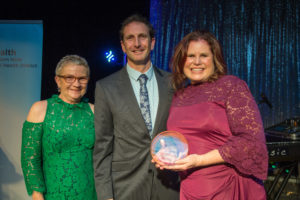 The Forbes High School Wellness Hub has again proven its significance by being named winner in the Spotless 'Keeping People Healthy' category at the Western NSW Local Health District's Living Quality & Safety Health and Innovation Awards held recently in Dubbo.
The Spotless 'Keeping People Healthy' award is aimed at initiatives that promote healthy choices, prevent ill health and improves the overall health and wellbeing of the community.
In 2016, Forbes High School observed an increase in complex, student psychosocial needs, impacting the mental health and wellbeing of their students.
This project aimed to establish a Wellness Hub on site and increase access to health services. A multi-disciplinary team was established to create the Wellness Hub, provide outreach services and evaluate progress.
An impressive 207 occasions of service were recorded during the first 12 months of operation.
An extract from the Summary of Award Winners said: "This is an excellent example of how a locally-led project can improve health outcomes for youth and families."
Staff and teams from across the Local Health District submitted entries leading up to the awards, with projects focussing on ways better health results can be achieved for patients through innovation.
In total, 77 projects were received across 10 project award categories. Award finalists presented their projects at a symposium, allowing projects to be showcased to staff and managers from across the district so that innovative ideas could be shared.