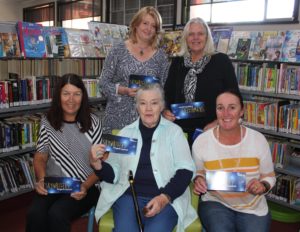 "The sky has no national borders or ethnic divisions. We all share the sky and we all have sky stories in our lives."
This is what inspired Forbes-based author Merrill Findlay to start the Skywriters project. After many years of spending time in war zones and with refugees and asylum seekers as a freelance writer, Merrill was looking for something that would unite people.
Last Thursday Forbes became the 10th of 12 locations over a 700km area where the Skywriters Project has been launched. "It's been fantastic so far, overwhelming," said Merrill of the almost 800 people who had already signed up. "Not one person has had the same experience or story."
Skywriters will create sky stories of up to 3,000 words in any genre for a Skywrit- er's anthology to be published in 2019 to coincide with the 50th anniversary of humanity's first steps on the moon. With the Parkes radio telescope playing a vital role in the first moon landing, Merrill is planning a first social event for the Skywriters at The Dish.
Apart from leading workshops and individual sessions with editors to hone their skills and get their work to publish- able quality, Merrill also sees the project as a way of building a supportive network of rural writers. "People in the bush have a lot of creativity, but they are also very isolated."
The Skywriters Project is part of a larger initiative, the Big Skies Collaboration, a creative coming together of arts practitioners, astronomers and local communities to celebrate millennia of astronomies on the inland plains and share their stories about their own or other people's relationships with the cosmos.
"We are still very privileged to see clear night sky – all the more reason to tell what it is to have a big sky," said Merrill.
By Maggi Barnard