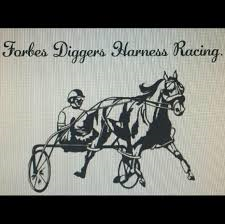 Forbes Diggers Harness Racing Club held a successful meeting last Thursday on Anzac Day and are looking forward to their TAB Carnival Of Cups Meeting on this Sunday, 5th May.
Gates open at midday with on course bar and canteen facilities. The committee would definitely recommend that you get in early for a steak sandwich.
With our upcoming meeting, Club President Lex Crosby would like to thank all the volunteers that help the club to prepare for both race days. Also, a special thanks to the sponsors that continually support Harness Racing in Forbes.
Feature races for this meeting are the Forbes Services Memorial Club Final and The Ted Clifford Memorial.
Races on Sunday, 5th May include:
• R1 – TAB.COM.AU Three Year Old Pace (3c0 To 3c1.)
• R2 – Forbes Livestock & Agency Co./ Walkers Ag n vet Forbes Pace (C0 To C1.)
• R3 – Kevin & Kay Seymour Ladyship Pace (C1 To C2.)
• R4 – Forbes Shire Council Club Dubbo Golden Gig Heat
• R5 – Forbes Services Memorial Club Final (C0 To C1.)
• R6 – Club Menangle Where Horses Fly Heat (C1 Only.)
• R7 – Ted Clifford Memorial (C2 Only.)
• R8 – Club Menangle Country Series Heat (C3 To C4.)