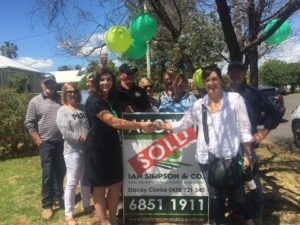 The Ian Simpson & Co team kept themselves occupied last weekend with property auctions held on Friday at the Forbes Services Memorial Club and on site auctions on Saturday.
On Friday there were eight properties under the hammer which were a mixture of rural and residential options from Forbes, Parkes and Eugowra.
The auction room had more than 100 people in attendance with more than 20 registered bidders across the eight properties.
Two properties were successfully sold under the hammer. The remaining properties were passed in on vendor bids, proving the market to be more challenging on the day.
Ian Simpson was not deterred by this outcome and said: "The interest that we've had throughout our auction campaign gives us the confidence that we will have good results going forward."
Unanticipated success awaited the onsite auctions of two residential properties in Forbes held on the Saturday. The sale of 37 Bathurst Street for $280,000 and 18 Clement Street which went for an incredible $278,000 surpassed all expectation.
Clement Street had 60 people in attendance with 15 registered bidders and saw active bidding well above market value. An original family home and a block from the lake an explanation for its alluring appeal.
By Gizell van Wyk