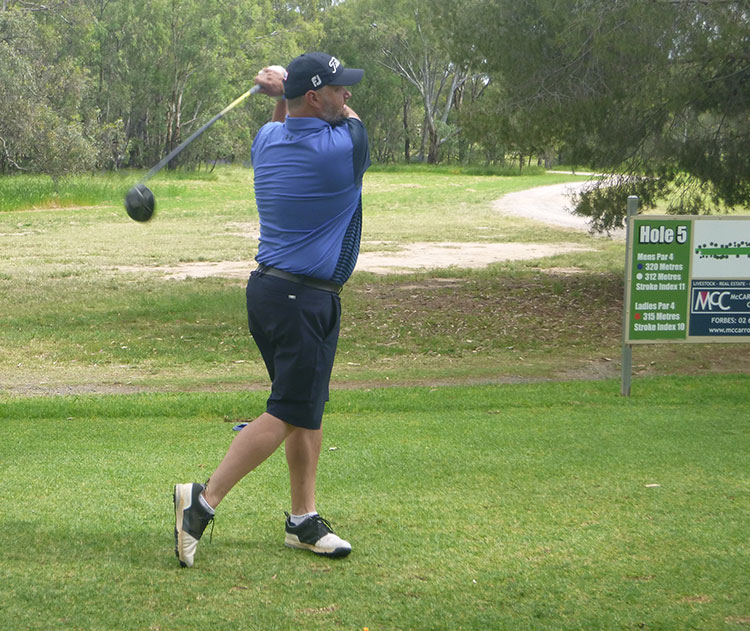 The final two rounds of the Forbes Golf Club Championships were well supported, which pleased sponsors Lachlan Commodities and Pool Magic, and produced some tight tussles among the grades.
The battle for the A-Grade Championship came down to a final day head-to-head between John and Steve Betland. While the lead had changed on each of the previous rounds, Steve took command early in the front-9, and in the end finished five shots clear on 284 from John's 289.
The A-Reserve Champion was Kim Herbert, who started the final day four shots ahead of Tim West. Kim stayed cool to finish with 326, and a handy lead over Brian Everest on 332.
The B-Grade Champion was an easy walk for Stephen Uphill, holding a 15-shot lead over Stuart French. On the final day Jordan Brett came storming home to finish second on 347 to Stephen Uphill by 20 shots.
In the C-Grade Ben Robinson had dominated for three days, but felt the tension on the final day, being hard pressed by Damien Kennedy. Ben managed to stumble home finishing with 358 ahead of Damien's 362.
Other Championship winners were:
• Veterans Scratch Championship: Peter Dawson (302) over Kim Herbert (326).
• A-Grade Handicap: Michael Wood (279) over Steven Betland (288).
• B-Grade Handicap: Stephen Uphill (275) over Harrison Callaghan (291 on c/b).
• C Grade Handicap: Damien Kennedy (274) over Ben Robinson (278).
• Veterans Handicap: S Uphill (275) over K Herbert (286).
• Junior Encouragement Award: Lachlan Alley.
The 2020 VW Scramble is set for Sunday, 25 October with last minute team entries accepted.
Head Pro Adam has organised a Titleist Demonstration day scheduled for Monday, 9 November. Contact Adam for more details.
Saturday, 24 October is an Individual 18-Hole Par, sponsored by Peter Dawson. If numbers allow, a Stableford Medley will be run on Sunday.
By Short Putt