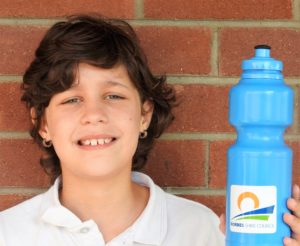 The Forbes Council's initiative to encourage young people to drink tap water instead of buying bottled water has reached all the schools in the shire. In the late 1980s when Australia was introduced to buying bottled water, many people thought it was a big joke. Who would be
so silly to buy bottled water when you can drink it for free from the bubbler, or fill up your glass or trusty drink bottle from the tap?
Well marketing triumphed and unfortunately today we continue to buy bottled water in droves. But not in Forbes! All primary students received a reusable water bottle as Mayor Graeme Miller did the rounds and visited the final school last Wednesday. Forbes Public School Principal, Dafydd Thomas said: "We are grateful to Forbes Shire Council for providing this sustainable initiative as it supports the students learning and understanding of the importance of recycling to reduce landfill. All 300 students were given an environmentally friendly, reusable water bottle."
Students answering a question from The Forbes Phoenix were all aware of the vast number of disposable water bottles ending up in landfill and its negative effect on the environment. Australians purchase about 118,000 tonnes of plastic drink bottles a year, but only recycle 35 per cent of them. The 76,700 tonnes left behind either goes to landfill or ends up as rubbish. In addition the cost of bottled water is exorbitant with Australia alone using more than 300,000 barrels of oil a year to make PET bottles.
Add the cost of transport, and the amount spent on buying bottled water, while it is possible to get the same product virtually free from a tap. Isn't it time you follow the lead of the students and make bottled water a thing of the past?
By Dianne Collie