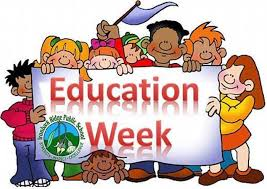 Today's Schools Creating Tomorrow's World
The future of education will be showcased in NSW public schools from 6th to 10th August as students, teachers and parents across the state celebrate Education Week 2018. Education Week kicks off on Monday, 6th August, with a simultaneous launch at Parramatta and Kiama Public Schools livestreamed on YouTube so all government schools and their communities can join in.
This year's theme, Today's schools – creating tomorrow's world, highlights how NSW public schools are equipping young people with the skills and capabilities they need to thrive in a rapidly changing world. For the first time the Education Week launch will be hosted by primary school students and will feature a dancing robot, student performances and a film highlighting how schools are working with their communities to solve real-world problems.
A highlight of the week is the 'Game Changer Challenge', in which 16 teams of students from schools across NSW will compete in a three-day design program, working alongside leading industry professionals to create the school of the future.
Premier Gladys Berejiklian said today's students were learning at a time of great change. "From the far west to our metropolitan hubs and everywhere in between, our state's schools will celebrate not only what we've achieved, but the future we are creating," said Gladys. "We are living in a time when the traditional walls of the classroom are opening up to new worlds of learning, paving the way for students to connect and collaborate with their peers regionally and globally."
Education Minister, Rob Stokes said there had never been a more exciting time to be involved in schools with technology reshaping the way students learn and billions of dollars being invested in new school infrastructure. "The NSW Department of Education is continually striving for improvement and innovation so that the young people in our care learn in a world-class education system."
The Secretary of the Department of Education, Mark Scott said ensuring today's students had the skills they would need to "not just survive, but thrive" in the future underpinned the department's evidence-based approach to learning.
Quality Care And Education
Bright Beginnings Early Learning Centre is a locally owned long day early education and care service. We focus on offering high quality care and education to children aged birth to six years old.
Our highly motivated team strive to provide the best possible experience for every child and family and take a multi-faceted approach to learning. Our programs are carefully designed to suit the age, interest and ability of each individual child from when they first join us, and focus on supporting them to reach their full potential.
We also offer an exciting preschool program which ensures that children are ready to begin their formal learning at big school.
For more information or to book a tour of our service, please call Kym on 6851 4597 or email director@brightbeginnings.net.au.
Learning Through Play
Forbes Preschool has an ongoing and developing program to include all aspects of play based learning for preschool aged children. The Girinya (play) Room was incorporated when the new preschool site was built to increase the current play based learning environment.
One program, the school readiness project has been developed to ensure a smooth transition for all children and makes use of the Girinya Room to develop children's physical needs for school readiness.
Forbes Preschool's school readiness project has been developed for all children due to start school the following year and is supported by a paediatric occupational therapist, speech therapist and preschool facilitator.
The programs are mainstream and do not target individuals. The school readiness project is also embedded into the whole day's program of play and learning.