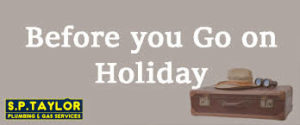 You have a million things to do before you leave for a trip, so it's very easy to let some important to-do's slip through the cracks. Read through the below to make sure you're ready for your next travel adventure!
• Pay off your bills before you leave or schedule automatic payments for your bills.
• Sort through your wallet and remove items you don't need for your trip. Think extra credit cards or reward cards that only apply in your country of residence.
• Update your calendar. Be sure to check your calendar to see what commitments you have made while you are gone. Reschedule them before you leave.
• Put mail on hold. You don't want strangers knowing that you're away with the pile of newspapers at your door, so be sure to request to hold your mail. You also don't want a mailbox that is overstuffed when you're back from your holiday.
• Unplug and switch off. Remember to turn everything off, or better yet, unplug them, to conserve energy and money.
• Create an automated email response or a personalised voicemail to let people who are trying to get in touch with you know that you're out of town.
• Clean out your fridge and garbage. Clean out perishables from the fridge so you're not in for a nasty surprise when you get back. Take out your rubbish as well.