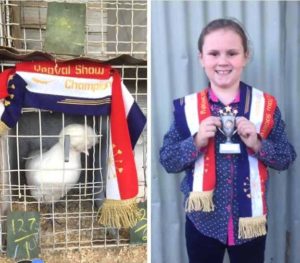 Eight-year old April Bermingham has been making an impact at competitions across the Central West with her prize-winning chickens and ducks. She has already won more awards than her Sausage King dad, Shannon, and has no plans to stop.
April shows Polish, Modern Game, Silkie and Ancona chickens, as well as Mallard, Crested and Indian Runner ducks.
This year she has attended four shows so far, winning 10 first prizes at Dubbo and Yeoval, seven first prizes at Wellington, and four at Orange. She also received prizes for a champion chicken and champion duck at Wellington and Yeoval, and won a number of second and third prizes at all four events.
April says that her favourite thing about showing the birds is having fun and spending time with the chickens and ducks. Her favourites are a rooster called Rocky, and a duck called Waddles.