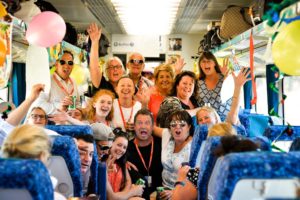 It might be a 'mystery train' for the uninitiated, but thousands of fans would happily attest to why the Elvis Express has been awarded the top spot globally.
The extremely popular train journey from Sydney to the Parkes Elvis Festival has been named the top one-of-a-kind rail journey across the globe.
Escape.com.au has revealed the nine top train trips that offer travellers a unique experience with the Elvis Express journey listed as number one.
"Though departing only once annually, the Elvis Express is undoubtedly among the most unique train rides in Australia," according to the Escape.com.au website.
"Transporting hundreds of Elvis fans each January to the Southern hemisphere's biggest Elvis Presley festival, the train is a moving celebration of the life and career of rock 'n' roll's beloved King.
"Once the doors close on the legendary TrainLink service passengers can expect non-stop performances, games and dressups over the seven hour, 365km ride. With a raft of hip-thrusting Elvis impersonators and bee-hived 'Priscillas' singing and shimmying their way to Parkes."
Parkes Elvis Festival Director Cathy Treasure said: "It's wonderful to have the Elvis Express experience recognised as the most unique train ride. We work year round with NSW TrainLink to ensure the service offers festival visitors a one-of-akind journey."
NSW TrainLink Acting Chief Operating Officer Candice Heine said: "We're very proud to be able to support the Parkes Elvis Festival by offering a unique way to travel to the five-day extravaganza."
The Elvis Express will once again form part of the 2019 Parkes Elvis Festival with tickets going on sale on the day of the festival program launch on 10th September.