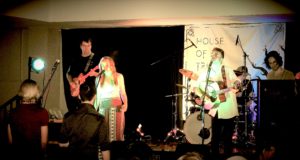 What a journey it has been since 2013 when local band House of Tribes first performed at the Calarie River Arts talent quest. The band originally had three members, siblings Paige and Jake Ellison and Greg Prow. "Greg was asked to play guitar with us so Jake and I wouldn't fight, but we are older now so everything is different," said Paige laughing. Stuart Maclean joined the band in the summer of 2014, and completing the current lineup is bassist Jasio Rimene who joined last year.
Paige remembers naming the band. "We were using a band name generator which came up with weird names, when I looked up and on our shelf was the book 'House of Tribes' by Garry Kilworth. It is a pretty cool name and the band is our second family made up of people from other families (tribes)."
Their debut album, Paint it Red was recorded in 2015 after ranking third in the People's Choice Award at the Battle of the Bands in Orange. "The prize was 10 per cent off on our first recording so we thought we may as well. On hearing the recording, we thought it sounded good," said Greg. "So we wrote more songs to record the EP," said Paige.
Their second album, We Still Have Hearts was launched last Friday at the Forbes Services Memorial Club. Jake and Paige wrote all the songs. "I wrote my first song when I was 14, called Nightmares," said Paige. "I can't believe how much I have matured since then. The new album channels originality and explores alternative thinking to take you on a journey. According to Paige one track came about when she could see Winnie the Pooh in the one-hundred-acre forest listening to Jake's music. "I started wondering if I would ever forget about Pooh bear, my favourite, and then I started thinking what if Christopher Robin ever forgot about Pooh…" The song will tell you the rest of
the story.
Jake took up guitar in kindergarten, Paige has always loved dance and music, while Greg always wanted to play in a band but as a father of four thought his opportunities had passed. "This is the first band I have ever played in and I love it. Don't let age stop you," said Greg. Jake is studying audio engineering in Queensland, Jasio lives in Bathurst and Stuart in Orange, but distance will not stop the House of Tribes. There is going to be a third album. "Jake will produce the third album on completion of his studies, so we are going to take our time with this one," said Greg.
By Dianne Collie