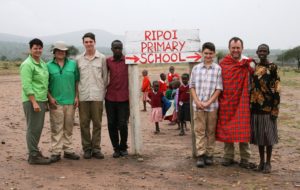 Christmas is a wonderful time of year to gather as a family and to give to those in need. That is exactly what the Toole family did.
Neil and Jenelle Toole along with their three teenage boys, Nicholas, Cameron and Harrison travelled to Kenya last year for Christmas.
Throughout their lives, Neil and Jenelle had always been involved with multiple volunteer organisations including sponsoring children in Africa.
"After travelling to Africa 20 years ago and loving it, we had always planned on returning and knew we wanted to volunteer as a family. So the next challenge was to find an appropriate project and volunteer organisation," said Jenelle.
After some research Neil and Jenelle decided on a not for profit, non-government organisation called Marafiki (which in Swahili means 'many friends'). Marafiki is based and operates in Kenya and drives projects for orphanages, health clinics, drug rehabilitation centres, schools and so forth.
"Our motivation for volunteering was twofold. Firstly, to be able to give back. Australiareally is 'the lucky country' with excellent education, stability, access to support, healthcare, services and opportunity. Our second motivation was to expose our teenage boys to how life is in a developing country. Including to impress on them how important it is to always extend a hand, no matter how small, to those less fortunate and not to take anything for granted."
During the three weeks of volunteering, the family spent their time doing food drop offs at Rumuruti Village and assisting at an orphanage. However, the majority of their time was spent at a primary school in the village of Ripoi.
The Toole family provided 80 chairs and 20 desks, which they constructed, painted and repaired. They also supplied all curriculum requirements, educational posters and supplies such as chalk, rulers, books, pencils, pens, etc. for the whole school.
They were able to provide the Maasai kids with toothbrushes and toothpaste and treated a range of minor wounds and infections. Harrison gave some basic music lessons with 30 recorders.
"Harrison celebrated his 13th birthday at Ripoi, which was an experience for all. The Maasai don't celebrate birthdays. So sorry Harry, no presents!
"We were also fortunate to celebrate Christmas and New Year at Ripoi. As life is very hard for these people, extravagances such as decorations, presents and timeoff are luxuries they can't afford. However, they are happy and genuine people that celebrate the life and freedoms they do have in being with each other, talking and telling stories."
The village itself was very remote, which meant no electricity, running water or tarred road within 200km. For the duration of their stay, the Toole's lived in a hut constructed from sticks covered in cow manure and mud with sticks for a door.
"It didn't smell at all and there wasn't a fly in sight. The door's construction raised some questions though when the hyenas and lions walked past in the night.
"On behalf of those at Ripoi, thank you to all those individuals and organisations who donated supplies or money towards this project. All donations went directly to equipment."
By Gizell van Wyk