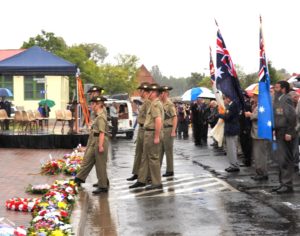 As Australian citizens, we enjoy the rights of a free country: safety, opportunity and democracy. Anzac Day is our opportunity to commemorate the men, women and chil- dren who fought, endured, suffered and died for us, our country and all the privileges we enjoy daily.
On this commemorative day, we are re- minded that it is important to remember the deeds and sacrifices given to us by the invincible, intangible Spirit of Anzac. The Spirit of Anzac as suggested by the official war historian C.E.W. Bean is "to have stood, and still stands, for reckless valour in a good cause, for enterprise, resourcefulness, fi- delity, comradeship and endurance that will never own defeat".
Masses of Forbes locals and visitors attended the 10am commemorative Anzac march and service on Tuesday. By the end, it would be true to say we were all uncomfortable, if not soaking wet due to incessant rain. However, rather than subdue our reverence for the Anzac's, it was evident we were thinking "this isn't so bad, imagine how the Anzac's must have felt whilst fighting for our freedom in Gallipoli".
The Anzac march from the Forbes Services Memorial Club to the Cenotaph in Victo- ria Park brought many schools, community groups and ex-service personnel together to pay their respects, mourn with pride, and remember with equal pride, those that have served and still live. Also to give gratitude for the peace we enjoy, and acknowledge, the responsibility of ensuring the freedom and liberty so costly won is not lost by our own indifference.
Part of the service included a multitude of Forbes community groups, businesses, families and individuals laying wreaths. Flowers have traditionally been laid on graves and memorials in memory of the dead. On Tuesday, rosemary, which symbolises remembrance, was favoured.
Jolene Jones, assistant manager of the Forbes Services Memorial Club read the Prayer of Thanksgiving, which thanks the nations of the world in seeking peace and happier relations with each other. Alexander Boyton of Forbes Public School read the Prayer for the Queen, and Mayor Graeme Miller beseeched God to, "watch over all those serving in the armed forces and those that still suffer dis- abilities through sickness and injuries suffered in war (all conflicts)". John Schrader delivered the Commemoration of the Fallen, which thanks the Lord for "the brave and faithful dead who willingly laid down their lives on the battlefield of war," for us all.
Glen White (Retired WO Class 2), who during his period of service from September 1987 to August 2014 was deployed to Malaysia, East Timor, Sinai, Egypt and Cambodia, made a commemorative address saying: "There is something very Australian about coming together as we have done today." He also reminded us to, "keep bright the memory of the Anzac's and the Anzac spirit," because the "future generations need to remember."
The Anzac spirit was epitomised in the deeds of Simpson with his donkey at Gallipoli that is comradeship, courage and sacrifice for others before self. Today that same spirit encompasses the laugh- ter, pride and love of life that we all enjoy as citizens of the town we call home, Forbes.