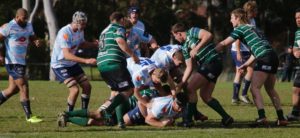 The Forbes Mighty Platypi did not disappoint fans that came out in droves to support their favourite team at the Blowes Clothing Cup grand final. The Platypi defeated the Orange Emus with a 28-20 final score after a gut-wrenching game, clinching the 2017 premiership held at the Endeavour Oval in Orange last Saturday.
Forbes Rugby Union Club President, Tracey Prior said: "The game was always going to be a tough one for the boys. They'd faced Emus several times this year but the Emusalways got on top of us in the last few minutes somehow."
"As soon as the guys ran on the field on Saturday they were confident and calm. They knew what all our strengths were and what we needed to focus on and do to secure the win," said Tracey.
During the first half of the game the score changed regularly and at half time the Platypi had a three point lead with the score 13-10.
During the second half the Platypi had strong winds to their advantage which they used very effectively.
"The Platypi knew it was going to take hard work and they were willing to do that," said Tracey. They were really hungry for it! All players stood up and did what was asked of them."
The Platypi victory was followed by an electric atmosphere, with the crowd and supporters celebrating and congratulating the team.
"A lot of people from Forbes and other clubs were there in support. It was a bit like David and Goliath. Forbes is a small town compared to Orange. I think people wanted to see the underdog win," said Tracey.
She was very impressed with the number of Forbes community members who came on Saturday. She could not express enough how proud she was hearing everyone cheer for the team. "It was a magical afternoon."
By Gizell van Wyk