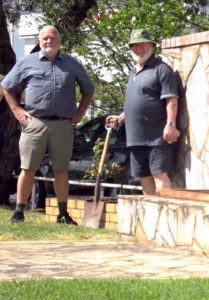 Members of the Forbes and District Lions Club are working on another project in Forbes. The local Lions Club have decided to update the small Lions Park area near
Jefferies Toyota.
The park is prominent on the entrance to town and the refurbishment will complement the beautification work Forbes Shire Council is doing at the moment.
Last Monday a start was made by planting two new roses and replacing one of the lion statues. Also planned, is the refurbishment of the map board with a new updated map and lighting, and a new sheltered table and seating to allow people a break from the summer heat or winter rains.