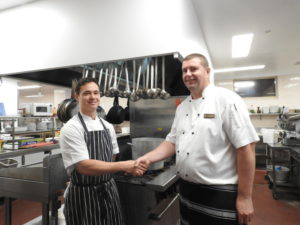 Have you ever been asked the question, "Where do you see yourself in five years?" Reece Hiki, first year apprentice at the Forbes Services Memorial Club (FSMC), answered: "To be a chef, travel the world and learn from new experiences." Reece did not waste any time realising
this dream as at 19 years of age, he is one of 32 finalists in the 2017 Fonterra Proud to be a Chef competition chosen from hundreds of apprentice chefs across Australia. Reece will travel to Melbourne for four days in mid-February to attend masterclasses with the likes of Peter Wright, Director of Global Hospitality Group, Buddha Lo and Daniel Wilson. He will also sit down for fine dining to see what it's like being served from the kitchen.
According to Reece his coach and mentor, Master Chef at FSMC Richard McCarthy, encouraged him to enter competitions. "Not just to win, but for the learning experience." He attributes his early success to learning to love his trade by working as a kitchen hand at the FSMC whilst completing Year 12 last year. Reece started his apprenticeship in March this year and considers Richard to be an amazing mentor and coach. "He has opened my eyes and helped me develop an even deeper passion for food. When I return from TAFE each week, he makes sure that I put what I learn in theory into practice."
Reece has promised to tell Forbes Phoenix readers about his experience at the competition, and he might place his crème caramel with tamarillo coulis on the menu.
By Dianne Collie