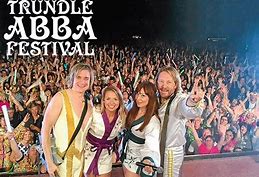 Trundle will come alive on 4th May to the only ABBA music festival in Australia. The festival is one of the most iconic events in NSW with ABBA fans arriving by car, bus and the famous ABBA train to enjoy the music of ABBA, performed by the world famous ABBA tribute band Bjorn Again.
There will be plenty of entertainment throughout the day with Australian artists including Ben Ransom, Ingrid Mae, Amitie and MRQ. The festival also features a range of fun activities including market stalls, fashion competitions and activities for kids.
It's a great opportunity for ABBA fans, old and new, some wearing their best ABBA outfits from the 1970's and singing along to the music that has captivated the world for many years.
Special guests, Alana Prentice and Tristan MacManus, known from Dancing with the Stars will be there teaching a few moves and judging the Fashion of the Festival.
If you are looking for a fun day nearby and searching for a memorable experience, then the 2019 Trundle ABBA festival is it!