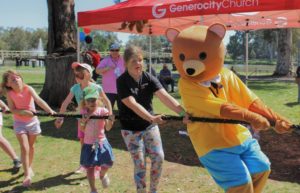 The second annual Teddy Bears Picnic was blessed with sunny skies last Saturday. Hundreds of children were delighted to take their most special teddy bear out for a fun filled morning.
The picnic at Lions Park welcomed well over a 1,000 guests, proving that this event is fast becoming a town favourite.
Scores of enthusiastic children, family members and of course the special teddy bear guests, couldn't get enough of the fun with the craft, games, and entertainment provided.
Free entry and a barbeque was offered, with only but a few activities asking for a gold coin donation.
It was evident from all the little butterflies, flowers, tigers and Spidermen scurrying about that the face-painting make-over was a popular choice for children.
The beautiful ponies delighted countless picnic-goers who couldn't wait to enjoy a pony-ride. The fire department astonished crowds by shooting water over the lake and letting kids hold the fire hoses. As if all of this wasn't thrilling enough there was a jumping castle, ninja obstacle course and kids play gym, teddy hide and seek, races and tug of war.
The winner of the Best Dressed Teddy Bear competition, which saw the furriest soft toys go up against each other, received a teddy bear donated by the police department.
Picnic organiser Fiona Blyth said: "Thanks to a very generous community and sponsors we were able to offer mostly everything for free. There was a lot of community cooperation and contributors."
The event is organised in conjunction with the committee and Forbes Shire Council.
By Gizell van Wyk