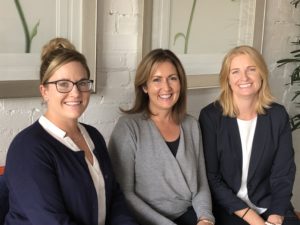 The Tara Kelly Real Estate agency proudly opened its doors in Forbes on 7th May 2018, with an experienced team of three professional women, all passionate about real estate and dedicated to providing outstanding customer service to the local communities of Forbes and Eugowra.
Together, the three women manage a substantial investment property portfolio as well as conducting residential, commercial and small rural property sales.
Their vision is to grow their business organically by doing great work and developing a great reputation, thereby retaining existing clients and gaining new referral business. Their goal is to be an extremely progressive, modern real estate agency, yet always mindful that people are theirmost valuable asset.
Tara Kelly, Director/Principal, began working in the real estate industry in 1997 starting as Property Manager in Dubbo. In 2007 Tara settled in Forbes and took on an administration role at a local Forbes agency.
Over the last decade Tara's passion for real estate has given her the drive to climb the ladder of success, from being a nationally awarded real estate sales assistant before becoming a well respected local residential sales agent. The opportunity arose to purchase her own real estate business in 2017 and Tara now has her own agency consisting of a substantial rent roll portfolio and also focusing on property sales.
Tara thoroughly enjoys helping people buy and sell and is willing to provide advice, hints and tips on everything real estate! Including, how to get the best price for your property, property sale presentation tips, pricing and method of sale advice, plus helping buyers negotiate their property purchase and navigate through the process.
Janelle Hopkins is a dedicated Property Manager and has worked with Tara Kelly since December 2017. Janelle brings a wealth of management experience and practical life skills to the Property Management department.
The skills required in her previous role as Medical Practice Manager have come in very handy when liaising with tenants, landlords and tradesmen. Janelle is very thorough and has excellent attention to detail, plus she is well organised, and enjoys the diversity, challenges and satisfaction of doing a great job in property management! Janelle is responsible for all day to day property management activities including sourcing tenants, conducting ingoing and outgoing property inspections, three monthly routine inspections, repairs and maintenance organisation, implementing a zero tolerance arrears policy, on-boarding all new landlords, and constantly communicating with all property management clients to ensure that everyone is on the same page when it comes to the management of each property.
Rebecca "Bec" Eppelstun is a local Eugowra girl and has worked in Real Estate/ Property Management in Forbes for approximately 10 years. Bec and Tara have been working together for the last four years.
During this time Bec has developed great relationships with many of the long term landlords, tenants and local trades. She has done an amazing job building the rent portfolio and has implemented many systems and procedures to keep everything organised and on track.
You can rely on Bec to get any job done quickly, efficiently and with attention to detail. Bec now helps out with the admin side of Property Management, by taking care of tradesman invoices, assisting with processing new rental applications, booking routine inspections, scheduling rental Open Homes, ensuring rental property advertising is up to date and many, many more jobs that get thrown her way!