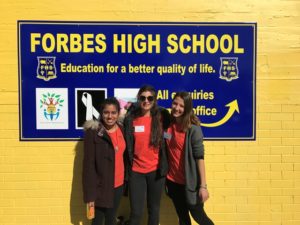 Sydney University was just down the road for Forbes High School students recently.
Forbes was one of four towns to take part in Sydney University's Widening Participation and Outreach (WPO) program (formally compass), which saw Sydney University run three workshops at Forbes High School this week.
The workshops were attended by Year 11 and 12. According to year 12 student Paige Ellison, "It was very informative and really helpful, especially for preparing for the trials and early entry to university".
Relieving Deputy Principal and Careers Advisor Daniel West said: "Forbes High School is extremely lucky to have this strong community partnership with Sydney University."
"The Widening Participation and Outreach program has been supporting students at Forbes High School for over five years, providing opportunities to be successful learners and excel in future careers is important to us as a school"
The three workshops run were:
• Year 12 Promote Yourself – Year 12 students practiced writing persuasively about themselves.
• Year 12 HSC Exam Prep – Students developed effective approaches to prepare for senior school exams.
• Year 11/12 SMASH Essay – Year 11 and 12 students received key tips on how to improve their essay writing skills.