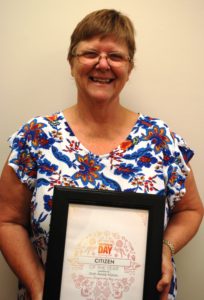 Those that know Sue-anne Nixon will tell you instantaneously that she is an extremely busy lady that's always doing something, somewhere and for someone else. That is why it comes as no surprise that she was named 2018 Forbes Citizen of the Year at the Australia Day community celebrations held at Lion's Park.
"I feel very humble in the wake of receiving the award. I am part of many groups of like minded people that love catching up and doing things in our town for both fellowship and fun. We all follow our interests and I just feel that there are many people – be they teachers, students, Lions, Rotarians, CWA, musicians, carers, neighbours, sportsmen and women, so many, that all together make Forbes a great place to live," said Sue-anne unassumingly.
Sue-anne selflessly dedicates most of her time to countless causes that are too many to list here. She is a teacher at Forbes North Public School where she devotes many hours in and outside of the school.
The Rotary Ipomoea Christmas Tree Festival is another one of her endeavours that she dedicates a lot of time and effort to. She is extremely passionate about the event that has seen exceptional growth annually with Sue-anne as one of the driving forces behind the successful festival.
Sue-anne has also been an enthusiastic musician and active member of the Forbes Town and District Band for many years.
"These sorts of things make you think about our Forbes community in general. We have a great town. Starting back at school this year, surrounded by families and children on the first day, I felt that overwhelming sense of how great the families in our town are and how they support each other," said Sue-anne.
By Gizell van Wyk