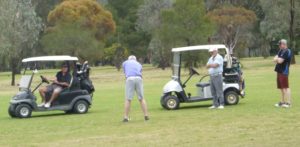 Last weekend the Annual Alby Callaghan 4BBB Medley Ambrose was played in warm conditions that were enjoyed by a field of 67 players, this comprised a good mix of Ladies and Men through the teams.
The winning team, comprising L O'Connor, T Sharpe, V Lane and C Bratton, used their handicap well to turn their score of 64 scratch into a nett 54 ¾. They scored eight birdies and no bogeys to really set the scene. Runners-up had been considered the favourites. Their gross score of 61 was absolutely brilliant for the conditions, but they had very little handicap to play with. The team of J Betland, T West, G West and A Hogan went round in 61 scratch, but their Nett score of 55 5/8 was not enough.
The ball sweep went to 57 ½ nett, going to: 54 ¾ – L O'Connor, T Sharpe, V Lane, C Bratton; 55 5/8 – J Betland, T West, G West, A Hogan; 56 1/8 – D Rhodes, P Tilsdell, J Zannes, A Andrews; 57 1/2 – A Dukes, M Cahill, P Maher, M Browne. The NTP's went to: 9th – P Pymont; 18th – A Andrews. Only the Andrews team got a '2'.
Sunday was the Stableford Medley, played once again by a core group. The winner was Jill Cripps with 38 points, well ahead of runner-up Andrew Dukes who managed 33 points.
The NTP's went to: 9th – Nil; 18th – Andrew Dukes. Alas, no 2's at all. Saturday 30 September is the Daine Doolin Memorial. This is a 4BBB Stableford Medley. Let us get the ladies and men together on this one.
Sunday 1 October is a Stableford Medley, as is the comp on Monday 2 October. Saturday 7 October is the Monthly Medal, and a good primer for the Club Championships commencing the following weekend. Sunday 8 October is a Stableford Medley.
By Short Putt