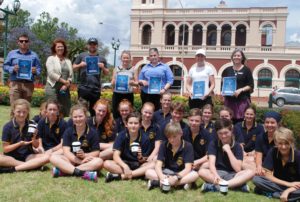 A concerned Year 6 group and their teacher are determined to bring awareness and change. The inspiration to research waste management at their school and within the community came after viewing the ABC series, War on Waste.
Kids Teaching Kids Co-ordinator, Trish Henderson and almost 25 students of Forbes Public School decided that they would identify two key improvements that they wanted to make.
Firstly, they wanted to increase the correct separation and disposal of waste into green waste, recycling and general waste.
The students conducted a 'waste audit' of all the red bins within their school playground.
The team took on the task to dramatically reduce the amount of general waste sent to landfill by encouraging fellow students to bring less soft plastic to school and to sort their waste into the correct bin.
Secondly, they wanted to increase the number of reusable cups as a consumer's preferred choice when purchasing takeaway coffee.
They were concerned about the fact that many takeaway coffee cups are non-recyclable. A survey conducted by the students within coffee shops determined that very few customers brought their own cup.
NetWaste Environmental Learning Adviser Sue Clarke said: "This is the way to change attitudes and behaviour for the future!
Many don't realise that these cups can't be recycled and there are so many disposable coffee cups that end up in landfills."
Netwaste have invited Trish and the students to be part of their campaign to reduce disposable coffee cups by providing them with posters for display in participating coffee shops.
By Gizell van Wyk