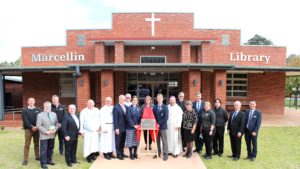 "It's lovely, so, lovely having a new, bright and airy library." These were the words of Sue Pietsch, Teacher Librarian at Red Bend Catholic College (RBCC) on Monday. "The students love studying here and keep asking, do you like it too, Miss?" she said at the official opening of the Marcellin Library and Resource Centre by Federal Member for Riverina and Minister for Small Business, Michael McCormack.
The new facility was made possible with $554,798 of funding from the Capital Grants Program. "I'm so pleased the Coalition Government has been able to make this impor- tant investment in Forbes for the benefit of the students as well as the whole school community," said the Minister.
The facility includes an outdoor meeting area for Year 12 students, rooms for both large and smaller senior classes, and space for photocopier, a printing room, as well as technological and traditional resources.
The students are also thrilled that their original four comfy chairs have been increased with a number of semi-circle seats perfect for informal learning or catch up sessions.
"These new learning spaces take into account the latest in education research and will see students learn more effectively." said Michael McCormack. "It was great to visit RBCC and see the new facilities first hand and learn from both students and staff about the significant value these facilities will have for their education."
The library has big windows that look out over the beautiful trees and lawns, and although it may house the latest in technology the library allows the students to enjoy the peace and beauty of the country as well.
Bishop of Wilcannia-Forbes Diocese, Bishop Columba Macbeth-Green dedicated the facility to the education and wellbeing of the present and future students of RBCC, and to their growth in faith, hope and love.
By Dianne Collie