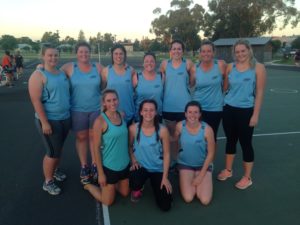 Minor premiers Golfie defeated Forbes Inn 36 – 22 in the final of the women's Spring/Summer night competitions last Wednesday. Tyrepower defeated McClintocks 33 – 16 in mixed division 1, and the mixed division 2 final saw minor premiers Carrots defeat Maguire Contracting 44 – 22. Golfie's Isabelle Cowhan and Joelene Pawson lead the way for their team. The teams started the first half goal for goal, with strong skills displayed by all players. Golfie was ahead by one goal at the first break, 10-9, and Forbes Inn was ahead by a goal at the half time, 19-18, thanks to very accurate shooting by Inn's Kristy Butler. Meg Groat made a huge impact for Golfie when she went into the goal keeper position at the half time break, and shut down the shooting circle of Forbes Inn for the second half.
Forbes Inn's Nikky Patton and Ari Summa kept up the pressure for their team, with strong attacking and passing, supported by Shea King and Casey Hodges. Alex Cowhan for Golfie never gave up. The court play was very even from both teams with the game played with very good sportsmanship. The mixed division final highlighted the skills the men have gained. Tyrepower started the game with strong netball, taking a lead of 11-2 at the first break, and leading 18-6 at half time. Defender Jordon Hartwig and shooter Damien Kennedy lead the way
for Tyrepower, with centre court Darren Piper also playing a very strong game. McClintocks' Sarah Simmonds and Joelene Pawson matched the strength of the opposition, supported well by Kelvin Brown who never gave up. Courtney Ward for Tyrepower stood out with accurate shooting and strong attacking.
Many of the boys playing in the division 2 final were new to netball. Carrots took an early lead in the game, winning the first quarter by 18-6. They were lead by team captain Janssen Mores, and Isac Bell, who has shown outstanding netball skills during his first competition. The half time break had Carrots ahead by 27-9. The third quarter saw a come back from Maguire Contracting, with Jack Piercy leading the way, supported by Isac Carlisle and Tom Maguire, and their team narrowing the gap by three goals. Carrots came back in the fourth quarter,
stamping their mark on the game and then winning it 11-4, with good netball played by Daniel Ashcroft.
Best and Fairest awards were awarded to Joelene Pawson (ladies division 1) Sophie Prior (mixed division 1), and Jacob Howarth (mixed division 2). The next night competitions start in February.
By Robyn Kenny