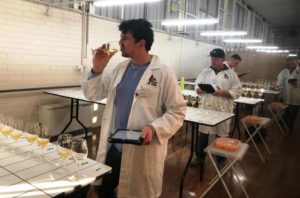 Judging for the NSW Small Winemakers Wine Show started on Monday and concluded on Wednesday at the Forbes Youth and Community Centre.
This year 553 wines were entered from 90 wineries across NSW and the ACT, marking an increase of 40 entries from last year's show.
The show is open to all NSW and ACT wine producers that crush a maximum of 500 tonnes annually.
This year the Chairman of judges is Jeff Byrne, who is also the Chief Winemaker at Agnew Wines in the Hunter Valley.
"Jeff has served as a Panel Chair and judge with us for many years and brings a wealth of experience to the judging team," said NSW Small Winemakers Wine Show President, Mark Watts.
"Jeff and the committee have chosen judges from across NSW wine regions and diverse parts of the industry, who would have selected the top wines based on their appearance, aroma, body, taste and finish."
The public tasting will be held tonight at the Forbes Youth and Community Centre.
The event starts at 6:30pm to 8:30pm. Tickets are on sale at the door for $25 and includes finger food.