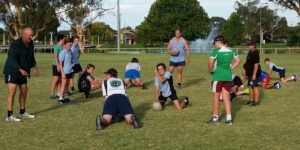 The Forbes Platypi Juniors have started training for the 2017 season and are having a great time getting ready for their first competition game on Saturday, 1st April.
The first round of the season will see all grades from 13's through to Seniors with a home game so it is shaping up to be a big day down at Grinstead Oval.
The coaches of each age group are motivated and keen to see the boys learn the skills and disciplines required to become well rounded rugby players. Most importantly, they are there to make sure the boys train and play safely, and have fun, which is what it's all about.
Under the guidance of their coaches, the players will learn the rules of the game, im- prove their fitness, learn important life skills such as teamwork, respect for their fellow team mates, referees and opponents. They will also make new friends, who might become lifelong mates for some.
It's not too late to register if you want to come down and try out rugby for the first time or if you are a returning player. The club looks forward to welcoming you back.
To register, turn up to training on Tuesday or Thursday nights, email us at forbesrugbyjuniors@hotmail.com or contact our Facebook page: Forbes Junior Rugby.