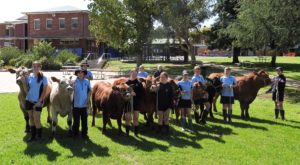 The cattle team of Red Bend Catholic College is competing in the Sydney Royal Easter Show.
Ten members of the team left on Sunday with the school's two trade steers and eight purebred limonsins.
They were setting up on Monday, prior to the steers being weighed, scanned, and inspected on Tuesday. Judging of the eight purebred school steers took place yesterday and the two trade steers will be judged today.
Last Thursday the team took the animals through their paces shortly before leaving for Sydney. "The students learn a great deal about animal behaviour," said Cattle Team Coordinator, Susan Earl.
"It is essential the students gain their trust as during the competition they lead the cattle into and around the ring and stand with them as they are judged." The students confidently lead the animals, weighing up to 500kg or more, with an encouraging whisper in their ear or a gentle pull on their halter needed at times.
"The animals can become a bit sooky when they are in a strange place so they often seek comfort from the students," said Susan.
Students elect to join the team making a solid commitment to raise, train and care for the cattle not only during sport but also on a weekly roster at lunch time, one afternoon a week after school and at times on the weekend.
By Dianne Collie