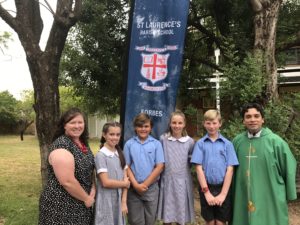 The students of St Laurence's Parish School have made a wonderful return to school.
The school community welcomed 51 Kindergarten students, as well as many new students and families. New staff members are Jodie Houghton, Kate Symonds and Fiona Dooley.
One of the first events this year was the school leaders induc- tion mass for school captains, sports captains and SRC repre- sentatives. The students made their leadership pledge and were inducted by Principal, Paula Leadbitter, and Parish Administrator, Fr Simon Apablaza.
The school community is looking forward to celebrating Catholic Schools Week later in the term, including the annual school fete on Friday, 10th March.