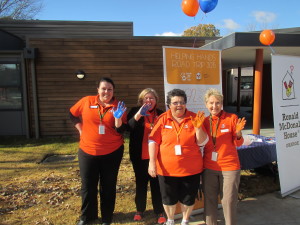 The Ronald McDonald House in Orange has proved to be an important place for families in Forbes since it's opening last year. Ronald McDonald House is a charitable foundation that accommodates the families of seriously ill children when they are forced to leave home and stay in hospital for medical purposes.
The House covers all serious illnesses as well as serious injuries, high-risk pregnancies, and mental illnesses. And since the House opened on April 13 last year, 10 families from Forbes have already used the facility.
One young boy from Forbes stayed there overnight last year after suffering a major injury during a game of football, after being transported to Orange Base Hospital. Other Forbes locals have used the House for pediatric and high-risk pregnancy purposes as well.
Ronald McDonald House has partnered with the Men of League Foundation, and will host a fundraising dinner at the Orange Ex-Services Club on April 9.
Central Western NSW local and dual rugby code international James Grant will be the master of ceremonies, and will be joined by fellow dual international Mike Cleary, as well as rugby league greats Bob
McCarthy, Stuart Raper and John Peard. RMH Orange Executive Officer Rebecca Walsh said that functions are the biggest fundraisers for RMH, and the dinner would be crucial.
"Functions are our biggest fundraiser by a long shot. We have a ball each year and last year we raised $105,000 from it," she said. "There is a great synergy between the Ronald McDonald House Charity and the Men of League Foundation, particularly here in the Central West, as it is a great rugby league territory."
RMH Orange has the biggest coverage area of any RMH in the NSW/ACT region, covering a whopping 86% of the state, all the way from Broken Hill across to Orange. The House has already accommodated 77 families from across the state. It has eight units that sleep six people in each, and the cost to run these is about $138 per night.
Ms Walsh said RMH will never expect families to fully cover these expenses,
which is why it fundraises and hires volunteers, but a $43 charge per night can be claimed back through a Federal Government scheme for those who have travelled 100km or more.
A stay for three nights or more will be bulk-billed in full straight back to the Federal Government. Tables of 16 will be set up for the dinner, with a three-course meal provided for $25 per head, along with raffles, auctions, lucky
draws, and other entertainment.