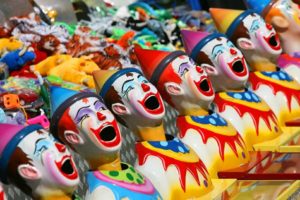 The opening of the 142nd Forbes Show kicks off today and once again there's a full line-up to keep the whole family busy for the next two days.
After unfavourable weather conditions during last year's show, the committee is determined to put on a bigger and better event this year.
Gates open at 9am where tickets can be purchased. The Show will be opened by local Tom Dwyer, winner of the 2017 Royal Sydney Show Legend Award.
The announcement of the new Forbes Showgirl and Commendation award winners will be done at the official opening of the show tonight at 7pm at the Grand Stand.
After this, make your way to the Main Arena, where the spectacular fireworks display will begin at 8pm followed with musical entertainment by local performers at the bar area. This is not to be missed!
There are scores of competitions in the show whereby entrants showcase their expertise, such as photography, needlework, Lego and cooking, to mention but just a few.
Look out for new sections in competitions. Flower exhibitors could enter the Class F4 People's Choice section. This is an arrangement open to all where anything goes, giving the amateur flower arranger a chance to also have some fun. Vote for your favourite by noon tomorrow.
Making its first appearance this year and a definite must-see is the Farmers Challenge. Local farmers will be competing in teams of four at 5:30pm today in front of the Grand Stand. This promises to be a fun event!
The Forbes Show Car & Ute Show n Shine competition has also added six new sections for participants. Entries will take place tomorrow from 9 till 11am and the judging starts at 12pm. Entry fee is $10 for two categories and sub categories on the day. Trophies and show ribbons will be awarded on the day. For more information contact Leah 0410 355 388.
If you are looking for some entertainment for the children, there are magic shows scheduled at 12 noon, 2:30 and 4pm todayand again tomorrow at 9:30, 11:30am and 1pm at the Grand Stand. Also something the family will enjoy is the reptile show at 1pm tomorrow followed by the Grand Parade at 2:15pm.
For those who would like to enter for the Miss Teenage, Miss Junior Showgirl, Miss Tiny Tots and Master Stockman, registration will be tomorrow at 11:30am at the front of the Grand Stand area. The winners will be announced at 2:30pm.
For more information about the show or what's happening visit the Facebook page Forbes Show NSW or go to www.forbesshow.com.
By Gizell van Wyk