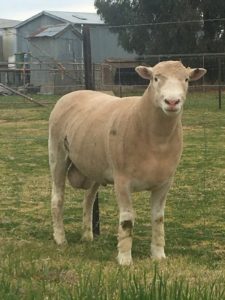 For over 20 years Felix Rams has focussed on producing efficient and profitable prime lambs by breeding high performance, structurally sound meatsheep rams.
Felix Rams' commitment to collecting good accurate performance data is second to none. Since first weighing lambs at birth in 1996, they have weighed more
than 22,500 lambs within 12 hours of birth. It is little wonder that a Felix client recently claimed, "You've solved our lambing problems".
Birthweight records go into Sheep Genetics –Lambplan. "We use Lambplan breeding values for birthweight and lambing to help eliminate the production of rams that sire lambs with excessively high or low birthweights," said Rodney Watt.
The priority is quick early growth, and maturity, not maximum adult ram size. Felix Rams will efficiently produce a 22-28 kg lamb.
The majority of Felix Rams hit the sweet spot for birthweight asbv of between 0.1 and 0.5 and pfat asbv between -0.8 and +0.5. At the same time, these rams are consistently in the top 25% of terminal rams for growth rate and eye muscle.
Felix Rams will offer around 140 Poll Dorset and 45 White Suffolk rams at their annual on-property sale at Greenethorpe on September 5th.
Catalogues are available at www.felixrams.com.au from August 25, or call Rodney 0417 499 204 or the selling agents, Allan Gray and Co Cowra 02 6342 2377.