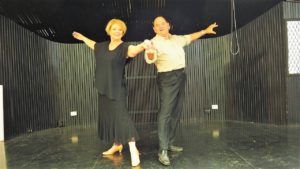 Christmas Showcase Ball: Stan and Stela Alexander and their local Dance Sports students Suzette Sheiles and Jade McGovern, will head the list of Forbes performers at the Christmas Showcase Ball, a Royal Far West authorized fundraiser. On 7th December from 7pm at Forbes Golf & Sportsmans Hotel. For any information or enquiries, please call Stela on 0411 796 323.
Forbes Branch Can Assist: Will once again be doing the cleaning at this year's Vanfest on the 1st and 2nd December. We will be looking for volunteers to boost our numbers to help our members do the job. If you can donate some time and give us a hand it would be much appreciated. We will be looking for helpers Friday late afternoon and night, Saturday and Saturday night and the final clean up on Sunday. Contact John on 0404 155 247 if you would like to volunteer.
Letter of Appreciation: The Forbes Rotary Club would like to thank all the sponsors for their generous donations to the charity golf day held on 29th October. All funds raised will be donated to the Forbes High School Wellness Hub. Thanks also go to Alan Rees, Lyn and Beryl Roberts from the Golf Club for their help. A special thanks to all who played and hope that everyone enjoyed the day.
Forbes White Ribbon Day: Annual community march in support of Australia's campaign to stop men's violence against women. Meet at Cross Street in front of Carpet Court on 24th November at 10am and finish in Victoria Park. Youth will share their thoughts on why it is important to stand up and speak out against violence and how together we can make Forbes a safer community. All of Forbes community are invited. A free sausage sizzle will be provided for all participants.
Winners of the Close the Loop Competition are: 1st prize Alison Haley – a $100 Woolworths gift voucher. 2nd prize Kathy Bray – a $70 Woolworths gift voucher. 3rd prize Lyn Goodwin – a $30 Woolworths gift voucher. CONGRATULATIONS, we hope you enjoy your shopping!
Forbes Racecourse Receives Funding: The Forbes Racecourse was awarded a $100,000 NSW Government heritage grant to go towards a renewal of the Forbes Racecourse, Parliamentary Secretary for Western NSW, Rick Colless announced on Monday.