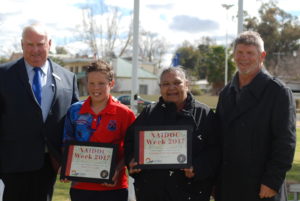 Indigenous Citizen of the Year Awards: During the NAIDOC Day celebrations held last Thursday, awards were presented to Indigenous people who have made a valuable contribution to the local community. Matty Duke received the Forbes Junior Indigenous Citizen of the Year award. Matty was nominated for his outstanding achievements both on and off the sporting field. The next award went to Kathleen Bowden for the Forbes Indigenous Citizen of the Year. Kathleen received the award for being such a strong member of the Wiradjuri Dreaming Centre committee and for her voluntary work in raising a better understanding of the Indigenous culture.
Local Legend Entry: Submit your Local Legend entry for their chance to win a $200 local WLT gift card. For entries take a photo of your Local Legend and put your reason in writing of why you think they should win. Email your photo and wording to nat.whyleavetown@bigpond.com. The best entries will be published on the WLT Facebook page. The published post that receives the most likes will win. Competition closes 31st December. For full competition terms and conditions, visit: www.whyleavetown.com.
Forbes Boscars: Don't forget to purchase your tickets for the Forbes Boscars Business Awards on Friday, 15 September at the Forbes Services Memorial Club at 6:30pm. Tickets are $80pp. To purchase go to www.forbesboscars.com.au.
Get Back to Basics With Dating: Hart Bar is bringing its first speed dating event to Parkes on Saturday, 7 October. The aim is to bring together like-minded singles from the region looking for love! There will be two age groups of 25-38 and 39-54 years with 14 singles in each group. Tickets are $49 and include two friends to avoid the initial awkwardness, plus a drink and nibbles on arrival. Limited spaces available, so register today! Contact Kasie Ferguson 0409 209 966.
The NSW Small Winemakers Wine Show: Expert wine judges and associate judges had the task of selecting the top wines. Judging took place at the Forbes Youth and Community Centre from Monday to Wednesday. The wines will be showcased at the public tasting event from 6:30pm tonight at the Forbes Youth and Community Centre. This event gives the public a chance to taste the award-winning wines as well as the other wines entered into the show. Tickets are $25, which includes finger food, and are available at the door